Workers Comp Coverage Exclusively for Arkansas Homebuilders Association Members
Provided by First Arkansas Insurance: 1-800-467-0415
Click here for a PDF file with information required to apply for this program.

About The Fund
The Arkansas Homebuilders Association Self-insured Fund began providing workers' compensation coverage for members of the association in 1993. Since that time the fund has grown and now provides workers' comp coverage for more AHBA members than any other comp market in Arkansas.
Our philosophy has been to manage risk utilizing loss control services and claim management services that were designed specifically for this association program. This philosophy has paid off in that we have consistently out performed the competition illustrated below:
This fund was designed exclusively for the association and provides professional claims management, safety program, post accident drug testing program, on site loss control, payment plan, potential dividends and long term solution to workers' compensation.
The Payoff
Sound risk management philosophy, as well as attention to loss control by our members, has resulted in dividend distribution paid back to the members each year since the inception of the fund in 1993. Below is the amount of each year's dividend and the percentage of premium paid by members the dividend represents: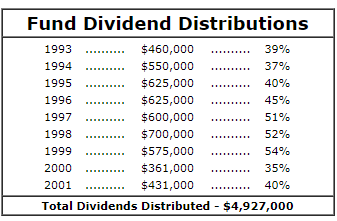 Participation in this Workers' Compensation Self-insured Fund is a member only benefit. This fund was designed specifically for the members of your Association by your Association. The fund currently provides workers' compensation coverage for more AHBA Members than any other insurer in Arkansas.
While other work comp providers are struggling to make a profit, the AHBAWCSIF is paying dividends back to members to reward their commitment to risk management and controlling claim costs.
For More Information
If you would like more information on the Arkansas Homebuilders Association Workers' Compensation Self-insured Fund, simply fill out the form below or contact us (information below):
First Arkansas Insurance
P.O. Box 8367
Pine Bluff, AR 71661
1-800-467-0415
Fax: 870-535-8318
Email: ajohnson@fai-pb.com