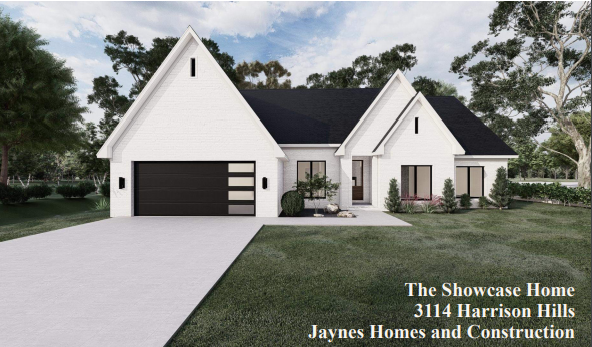 Open House Hours
Saturday, Decenber 5: 10:00 – 5:00
Sunday, December 6: 1:00 – 5:00
Saturday, Decenber 12: 10:00 – 5:00
Sunday, December 13: 1:00 – 5:00
2020 Parade of Homes Magazine Download
2020 NEAHBA Parade of Homes Title Sponsor


2020 Parade of Homes Builders
Dennis Jaynes – 3114 Harrison Hills – Showcase Home

Dennis Jaynes, of Jaynes Homes and Construction, in Jonesboro, Arkansas, combines the best of home design with exceptional customer service and quality construction to create a one of a kind home building experience. Our company is large enough to be professional but small enough to be personal. Since our beginning in 2001, Dennis and his team of craftsmen and suppliers have continued to grow and establish a solid reputation for outstanding design and consistent quality. Our custom residential homes are scattered
throughout Northeast Arkansas – providing hundreds of families with pride and joy in having selected Jaynes Homes and Construction as their builder of choice.
Eric Burch (SOJO, LLC) – 3652 Leafy Pass
I have been in the Jonesboro real estate business for years and have sold thousands of homes. My team is passionate, well-organized, and dedicated to the work that they do for you. Combined, we have 53 years of experience and know how to handle all of your real estate needs. We don't bite off more than we can chew we assign tasks and get them done on time. When you buy and sell, we utilize our resources and staff correctly to close our properties as quickly as possible. Contact with our clients is absolutely essential to our success, and we will never let you fall through the cracks. We will keep you informed about every step in the process, and we assure your satisfaction every step along the way. Rest assured, you will be in good hands with our team. We have sold over 2000 homes over the past ten years.
Carroll Caldwell – 4015 Ridgepointe Cove
Born and raised in Jonesboro, Arkansas, Carroll Caldwell has been in the Real Estate business in sales and development full time for over 42 years with experience in all classes of real estate: commercial, residential, multi-family and lots and acreage. Coldwell Banker Village Communities has been serving Northeast Arkansas's real estate needs since 1974. As a full service real estate agency, we provide our clients with expertise in all classes of real estate transactions: residential, commercial, industrial, multi-family, farms, lots and acreage, as well as new construction. In 2016 alone, our company closed more than $112,500,000 in sales, retaining our title as the #1 real estate company in Northeast Arkansas for five years in a row!

At Coldwell Banker Village Communities, we are dedicated to providing an ethical, honest, and exceptional real estate experience, expressly tailored to fit the needs of each client
Bob W. Harrison Construction – 3116 Serenity Hills
Bob Harrison, owner of Bob W. Harrison Construction and real-estate agent for Century 21, has served the Jonesboro community for over 51 years. As a real estate agent, he has sold over 1,500 homes in Jonesboro. Born in Harrisburg, Arkansas, Bob moved to Jonesboro at the age of 13. After high school he attended Baylor University in Waco, Texas, and upon graduation moved back to Jonesboro, Arkansas. He and his wife, Elizabeth, have been married for 56 years, and have two children and six grandchildren. Bob is currently working on the Harrison Hills subdivision on Neely Road. To schedule an appointment with Bob, please call (870) 931-8138 or e-mail BobHarrisonTeam@gmail.com.
Marvin Hinton Builders – 4846 Leesburg Drive
Marvin Hinton is a lifelong resident of Jonesboro and an Arkansas State University alumni. He has been in home construction since 1976. Marvin has been president of the local Northeast Home Builders Association for two different terms and a state director for over ten years. Marvin was a member of the prestigious National Association of Home Builders Builder 20 Club for over ten years. His wife, Regina, heads up the home décor and helps clients with their many home selections.
Mark Morris Construction – 3013 Creekview Court
Mark Morris has been in the construction field most of his life. He worked his way through college by working for a construction firm in Wynne, Arkansas as well as an engineering firm in Jonesboro, Arkansas. After graduating in 2003 with a degree in engineering, Mark started his own construction company building houses. In the first year of business he only managed to build and sell one house. However, over the next few years he continued to build houses while attending graduate school at Arkansas State University. In 2005, he graduated with a Master's degree in Business Administration and a second Master's degree in Engineering Management in 2008. Over the past 16 years, Mark has built over 400 houses, a variety of custom and spec homes, ranging from 1,200 square feet to over 10,000 square feet in size.